Club number One with Gerda Kindler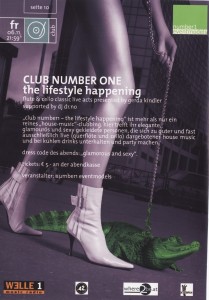 The lifestyle happening flute & cello classic live acts presented by Gerda Kindler supported by DJ Dr.No
"Club number1 – the lifestyle happening" ist mehr als nur ein reines "house-music"-clubbing.
Hier trefft ihr elegante, glamourös und sexy gekleidete Personen, die sich zu guter und fast ausschließlich live
(Querflöte und Cello) dargebotener house music und bei kühlen Drinks unterhalten und Party machen.
Dresscode des abends: "glamorous and sexy".
Tickets: € 5.- an der Abendkasse
Veranstalter: Number 1 Eventmodels
Cello: Tímea Lackó-Tóth
Am 06.November 2009 ab 22h im Café Republic Salzburg
(Text: Szene Salzburg-Danke!)